These days, there are many ways to make some money on the side.
People are always looking to have ways in which they can make passive income.
Whether they sell some services online, do some freelance work, or invest in something, there's always a thing or two you can do to earn some cash.
However, one of the best ways to earn money without really doing any work at all is by playing games like Bubble Cash.
While that sounds unrealistic at first, there are actually games and apps available that pay their users for doing certain tasks and win money for very little effort.
One such game that has seen a rise in popularity recently is Bubble Cash.
If you have heard of it and have been wondering whether it is a legitimate app or not, our Bubble Cash review will help you find out!
What is Bubble Cash?
Bubble Cash is a bubble shooter game developed by Papaya Gaming LTD for iOS like many others you might have seen in the past.
The unique thing about this title, however, is that it allows users to win tournaments and earn money.
Playing the Bubble Cash itself is free but you do need to spend a little money to take part in cash tournaments.
However, if you don't want to spend your money, you can also play tournaments using the points that you collect over time by playing normal games.
The game is very nice to look at with good graphics and bright colors.
The gameplay is simple, allowing anyone to develop their skills easily.
As mentioned before, it is free to download and play, and it also isn't plagued with ads which is great!
How Does a Bubble Cash Game Work?
If you have ever played a bubble shooter game before, you'll be right at home when trying Bubble Cash for the first time.
What you need to do is match three bubbles of the same color and they will pop and get cleared from the screen.
The mechanics are simple.
You have to drag and aim the bubble at the bottom of the screen to determine where it sticks in the collection of bubbles on top of the screen. Release the aim and watch the bubble fly to the top.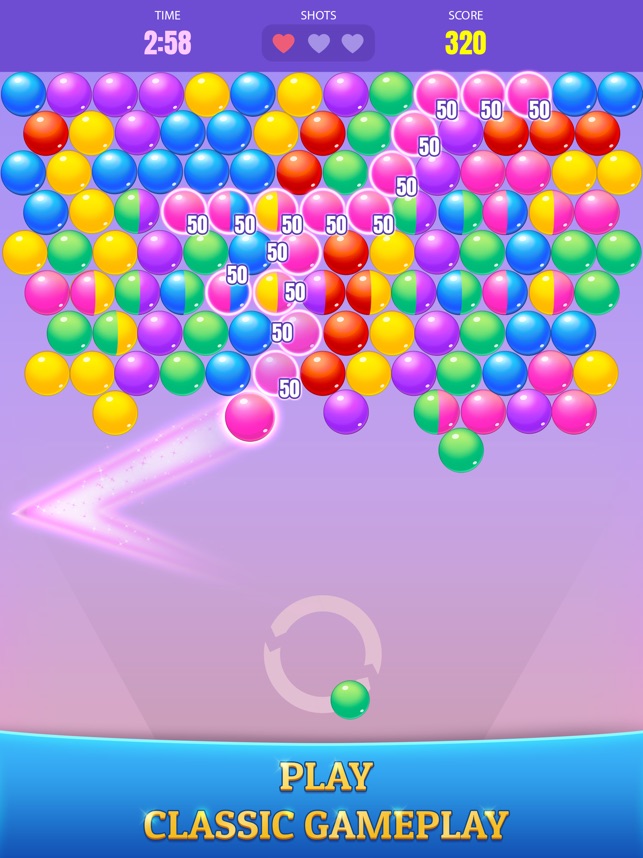 And that's pretty much it!
When you match three bubbles of the same color, they will be cleared away. Your goal is to clear the screen as quickly as possible.
Is Bubble Cash Safe and Legit?
This game is perfectly safe and legit. There are no scams taking place here unlike some of the others that you may come across.
By the way, we do regularly review scam websites and games, and those are some of our most read content pieces. In case you want to read these, make sure you check Liveops Review as well as Appen Review.
On the other hand, many players have testified to the Bubble Cash game's safety and security by this point.
There is no real reason to worry about whether you will be scammed when you start playing.
One of the best things about it is that playing Bubble Cash is free, if you don't want to win any money.
The developers could have easily charged some money to download the game if they wanted to scam people with a bad app.
How to Win Money on a Bubble Shooter?
To win money, you have to take part in tournaments.
In these tournaments, you play in multiplayer mode against others and the idea is to finish in the top 3 positions.
All the players get the same layout so it relies completely on each player's skill level. There are two ways to take part in these tournaments:
You can deposit money into your wallet and use that to play cash tournaments. Adding little amounts of money from time to time can accelerate the process of joining these matches. Another very positive point of using your own money is that you get additional bonuses for each deposit that you make. Using your money also allows you to play tournaments with larger rewards so you can make more money.
If you don't want to use your money at all, you can still take part in a Freeroll competition. In this competition, you need to utilize the points, or gems, that you have collected by playing the game normally. You need at least 120 gems to start playing for money. And like stated before, it's great to see that you can earn those gems for free and without annoying and intrusive ads.
Another very cool feature of the game is that there are regular raffles that you can take part in to win bonus money and various gift cards.
This is a very good incentive for players to keep playing which creates a win-win situation for the users and the developers both.
Customer Reviews
The first thing that you'll notice when you go to download this app is the generally positive reviews. That alone should be a big indication that the game is totally legit and safe to play.
At the point of creating this review, there are 45k ratings for this game on the App Store and it has a rating of 4.6/5.0.
It is ranked #5 in the Casino category and has over a million downloads. It is also updated regularly by the developers which adds to its reputation.
As far as customer reviews are concerned, they are overall positive.
Those who have been playing the game for a long time attest to its quality.
They not only appreciate the graphics and the gameplay but also praise customer support.
The top review on the App Store, as of this point, is by a user named chels835 who says that the game actually pays money to the players.
She also appreciates the quick withdrawal times as well as the prompt technical support.
She does mention that there can be some bugs regarding withdrawals from time to time but these should be easily addressed once you contact the support team.
There are not too many negative reviews.
The ones you will see most often are those that complain that you can't make much money.
There are also those that mention the aforementioned bugs that can be experienced in terms of withdrawing the winnings.
Overall, the game is rated highly by the customers.
If you go in thinking that you'll start making hundreds of dollars right away and on a daily basis, you will be very disappointed.
This is not a game to make you a millionaire overnight. But if you start playing with an open mind and realistic expectations, you will likely have a very positive experience.
How Do I Withdraw Money from Bubble Cash?
When you have amassed some money in your account, you can easily withdraw it.
This may not apply so simply to bonus money that you have received because you might need to fulfill some requirements first in order to use that money.
However, there are very secure and easy ways to withdraw money from your account.
All you need is a PayPal account to get your money out quickly.
Depositing is possible with PayPal as well as Apple Pay, however.
According to customer reviews, withdrawals usually take around 48 hours to be transferred to your account which is not that bad. Having such secure payment methods should give users a little more confidence in the app's deposit and withdrawal services.
Conclusion
So, what do we think about Bubble Cash?
The game is simple to play, has good graphics and gameplay, and has many offers to make use of.
The multiplayer tournaments have good matchmaking so you can be sure that you won't be matched with expert players while you are new at the game.
All in all, this is a very interesting and entertaining way to make some extra money to buy a new pair of sneakers or something.
You can, of course, keep playing it and keep racking up more money but that's not why you should probably go into it.
If you start playing the game just as a game and get better at it, you will likely have a much better time and also be able to develop your skills enough to start winning some cash.