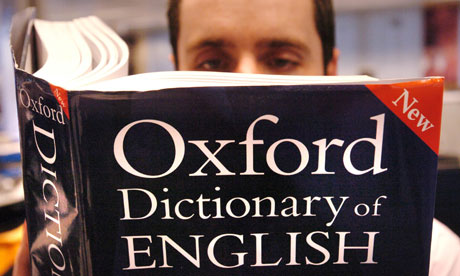 You can now grammatically defriend anyone, much to Microsoft Office spell check's dismay. In the most recent edition of the Oxford American Dictionary, the American sister of the Oxford English Dictionary (OED), a startling number of colloquial terms and phrases were transformed from a bill to a law, so to speak.
We all know that language is merely the means to an end, and communication is the ultimate goal. Even as a grammarian with a love for English, I can admit that grammar and proper spelling are only meant for clarity of communication. Afterall,
"'Refudiate,' 'misunderestimate,' 'wee-wee'd up.' English is a living language. Shakespeare liked to coin new words too. Got to celebrate it!"
–Sarah Palin
Regardless of your political preferences and affiliations, English is, in fact, a living and ever-changing language, and our most revered dictionary's 2,000 recent additions are proof. Let's take a look at some of the noteworthy new members of the English language.
A Few New Words (taken directly from the OUP Blog)
Bromance: n. informal a close but nonsexual relationship between two men.– ORIGIN early 21st cent.: blend of brother and romance.
Defriend: v. another term for unfriend.
Hashtag n. (on social networking websites such as Twitter) a hash or pound sign (#) used to identify a particular keyword or phrase in a posting.
Interweb n. humorous the Internet.
Social Networking: n. the use of dedicated websites and applications to communicate informally with other users, or to find people with similar interests to oneself.
TTYL: abbr. informal talk to you later: Anyway, gotta run now! TTYL.
Truthiness: n. informal the quality of seeming or being felt to be true, even if not necessarily true.– ORIGIN early 19th cent. (in the sense 'truthfulness'): coined in the modern sense by US humorist Stephen Colbert (1964–).
Vuvuzela: n. S. African a long horn blown by fans at soccer matches.– ORIGIN perhaps from Zulu.
Scholars across the country are humored and disappointed by some of these words. Merriam-Webster, though the first documented dictionary in this country, is not considered as reputable a source as the lexicons established by Oxford. While some of these terms were listed in Merriam-Webster many years ago, they weren't deemed worthy of Oxford until this year. The OED is generally the go-to source for scholars and educators, and words included in this resource are considered to be standardized terms of the English language, rather than widely-accepted slang terms. So does the large number of colloquial terms in this year's edition denote a less stringent team of lexicographers? I think not.
Instead, terms such as "interweb," and "defriend," show us a lot about the direction of this country. We seem to be headed toward a much more user-generated and controlled environment and traditional forms of media (i.e. the Oxford University Press) are taking note. Social networking and social media are taking over our user-generated content, and even our language is being affected by the influx of Internet users. If anything, this new list just shows how important social media marketing and online profiles are becoming for businesses and individuals in this country. Much like pop culture, society makes words, the bigwigs just convince everyone else to accept them.
As the debate lingers, it's hard to say whether creating your own words truly carries any merit or not. Afterall, if I said, "I need a nap; I'm so tessulious I could fall asleep standing up," most people would understand my meaning through context. However, that sure does not save me from sounding ridiculous, and slightly uneducated. For now, I'll keep my made-up words to my close circle of friends until my bill becomes a law in the eyes of the Dictionary.