People are always at a disadvantage when they ask what are useful phone applications?
If you are one of them, that means you are missing out on cool apps for your phone.
The thing is that there are apps you need on your phone.
That is, if you want to improve your productivity, find better deals and prices, and improve your fitness.
Long gone are the days of the mundane apps.
Now, their job is to improve your life.
What App Should I Get
Now, when you look for new apps, think about your needs.
Or, think about the part of your life that could use some help.
For that reason, people download apps that help them in specific segments of their life.
Since many people struggle with their fitness in the COVID era, they download fitness apps.
Of course, apps that help people organize are also very popular.
Apps can help you to increase your productivity and learn things. For you, the priority is to understand how an app can help you.
Then, read the reviews for the app, compare the apps, and give them a try.
Most Useful Apps To Download
That is the fastest way to find the most useful apps to download. Of course, the search for the best app comes with another issue.
You have to give apps a try.
That means that you need to download them and test their features.
Also, keep in mind that some apps come with paid versions. Finally, the choice of the best app comes down to you.
An app can have the best reviews in the world, but it needs to be useful for you.
Of course, there is a consensus of the most useful apps (as well as apps for finding odd jobs), and you can find them on the list below:
1. Mint
Mint is a highly popular app for tracking your account.
It offers you to link your bank accounts with the Mint app and track your finances.
Then, you can track your income, expenses, money transfers, monthly payments, and transactions.
After a month ends, you can get a full report.
With all that data, you can change your financial habits and save more money.
It is an excellent app for people that have a hard time tracking their finances.
With a complete overview of your bank accounts, you can control your spending habits.
And, another advantage of Mint is that it is a free app!
2. Todoist
Todoist is an excellent app for people that need more organization in their lives.
It allows you to create lists of things to do and integrate them with other apps.
That means that you can sync your lists with Google Calendar, Asana, and other project management and similar tools.
Also, you can create lists weeks in advance.
Due to its many integrations, Todoist is excellent for personal and team use.
You can share lists with the whole team and use them over different apps. Finally, there are free and paid versions.
Depending on your personal and professional needs, you can give each a try.
3. Duolingo
Duolingo is one of the best apps to learn a new language.
It went through dozens of iterations, and it offers support for various languages.
As a platform for learning, it is highly interactive, and all demographics can use it.
You can start learning as many languages as you like. Don't miss a chance learning thai online.
Duolingo platform keeps track of your progress and notifies you to stimulate you to keep learning.
As a learning platform, Duolingo is perfect for beginners.
Of course, it offers a lot of support for advanced learners.
Overall, it is an app that helps you to learn a new language at your pace.
Give it a try.
4. MyFitnessPal
MyFitnessPal is probably the most popular fitness app online. It offers a unique set of features to help you with your workouts.
Create an account, define your goals, and how fast you want to lose weight.
The app recommends what to eat and how to work out to reach your goals.
Also, there is a huge community to help you out with the workouts.
Out of all fitness apps, MyFitnessPal remains the app with the most features.
It offers you so much, even as a free user. Even if you are already fit, it can help you look and feel even better.
Start your fitness journey with it, and do it all from your mobile device.
5. Khan Academy
Khan Academy is an app that helps you learn and get an education.
The platform lets you create an account and take various courses. You can learn anything from math, sciences, economics to life skills.
The Khan Academy is excellent since it offers trusted content for all demographics to use and enjoy.
As an education app, Khan Academy is an outstanding source of content.
Another advantage of the Khan Academy app is that you can use it to help a family member learn.
Thus, it offers enough resources for various people to learn at once.
If you can, leave a donation and help a project out.
6. Asana
Asana is an app that helps you organize your workflow.
It is popular among professionals in all industries.
You can access it from the computer and mobile devices alike.
The primary advantage of Asana is that it is easy to learn and track all goals the team set for their projects.
There are few features to help you organize tasks and workflows.
Out of all workflow apps, Asana stands out due to its ease of use.
While there is a multitude of apps for this purpose, Asana is rather simple.
Use it for teams of all sizes.
7. Rakuten
Rakuten is an app that helps you track your orders and find better offers and deals.
With Rakuten, you can find discounts, cash-backs, coupons, and special offers.
Also, you can find various ways to get a return for the products you buy.
So, Rakuten is an excellent platform for buyers that want to save money while shopping.
Another advantage of Rakuten is that it offers various integrations.
It offers cross-platform support so you can track all your purchases. If you want to use an app to help you reduce your spending, go with Rakuten.
8. Venmo
Venmo is an app that lets you make your finances social.
It is an app that lets you send and receive money with other users on the app.
All you have to do is to create an account, and you can transfer the money.
The value of the app is that it allows you to transfer money to people solely with your phone.
Also, think about the vast network of people using Venmo.
It can let you plugin into any social event or let you pay people for their services.
You can start transferring money as soon as you create an account for the app.
9. IFTTT
IFTTT is an app that helps you automate any process in your life.
It stands for If This Then That, and it helps you to hack productivity.
The app operates on the premise of Applets, or sequences you design.
For example, you can connect your email account and social media account as an Applet.
Then, you can improve your cold outreach to send a connection request as soon as you send an email.
The best thing about IFTTT is that you can create limitless Applets.
They depend on your ability to determine their use.
Therefore, you can opt for a paid account and start hacking your productivity today.
10. GSuite
GSuite is an app that is a set of apps for you to use.
Google offers GSuite as an integrated solution for all official purposes.
You get an email, cloud storage, video calls, a calendar, documents and sheets, and much more.
Also, you get a Google Ads account, and you are ready for any business request.
As an app, GSuite is almost necessary for all business purposes.
Instead of paying for several services at once, you can get them all with GSuite.
You have to pay for it, but the price is affordable enough for the features it offers.
11. Calm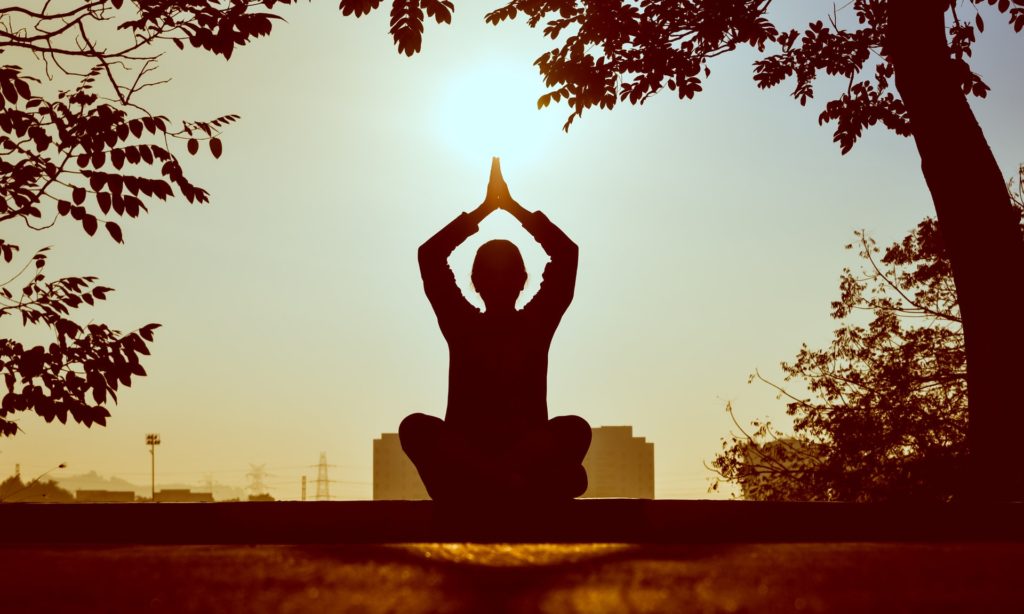 Calm is an app that helps you maintain your mental health. It consists of meditation, bedtime stories, nature sounds, and exercises.
Once you create an account, you can choose a well-being area you want to improve.
There are tips to reduce anxiety, stress or improve your sleep quality. It is a bite-sized helper to improve the quality of your life.
As an app, Calm helps you to work on the quality you need the most.
Without mental health maintenance, you are bound to encounter problems in all areas of life.
And, you should capitalize on the chance, since it is so easy to do it with Calm.
12. Waze
Waze is an app that helps you navigate while in traffic.
It shows you the best route to reach your destination.
Also, it gives you a chance to carpool with other people.
With shared drives, you can reduce the cost of travel and get a free company to your destination.
Overall, it is a helpful app whether you commute daily or want to do a road trip.
As an app, Waze can reduce the amount of money you spend on gas and time for traveling.
The advantage of the app is that it can show if there is a traffic jam.
As they say, it can reroute you to a better path, reducing time for traveling.
13. Spotify
Spotify is the most popular for all things audio.
It offers supreme audio quality, whether you want to listen to music or podcasts.
You can create an account in a matter of seconds and start browsing vast catalogs.
After that, Spotify offers you personalized choices for easier exploration of new music.
As a music app, Spotify remains unrivaled in the market even today.
While there is a free version, investing money in a paid option is highly recommended.
You can even download the app on your mobile device, to take the awesome experience anywhere you go.
14. Health App
Health App is an app that gives you a comprehensive insight into your physical wellbeing.
It helps you to monitor the quality of your sleep, nutrition, heart rate, and other health signals.
Also, it allows integration with other apps to better track your physical state. It is a revolutionary app when it comes to caring apps.
As a care app, it helps you to monitor all properties of your health.
It is excellent for people who want to improve their well-being, and people with health issues.
You can collect relevant data and share it with your doctor. Best of all, the Health App is free.
15. Kayak
Kayak is an app that helps you find the best prices for your travels.
You can select airlines, bus fares, stays, and holiday offers.
And, it offers you ideas for things to do at a specific location.
Use it to find the best deals for traveling and make your travels more affordable.
As a travel app, Kayak gives you a chance to organize your traveling from your device.
You can find where to stay and what to do from your phone. It is best for frequent travelers and people who want to find cheaper deals.
Discover New Apps
Using apps can improve your life. And that is not a phrase, it is a reality you choose.
The whole thing about apps is to use them to enhance a specific segment of your life.
Whether you want to improve finances, health, fitness, or productivity – There is an app for that particular cause.
While it takes some adjusting to the use of the app, it is a matter of principle in the end.
If you can take time daily to visit social media, you can take time to better your life.
Now, you can take any app from the provided list.
Finally, it is up to you to organize your life and make the most out of it. Do so, since it is a click away.