There are so many ways to make money online these days.
From websites that give you rewards for completing surveys and being involved in focus groups (like FocusGroup.com) to the possibility of selling your own products online, there's a lot you can do to make some extra cash every month.
If you don't have time to earn some extra pocket money, how about saving some while you are shopping?
ShopSmarter is a website that offers a cash back program to users shopping through their site.
To save money on products that you want to buy just makes sense.
However, it can't be that simple, can it?
Let's take a look at what exactly is ShopSmarter and whether it can actually help you save some money.
What is ShopSmarter?
ShopSmarter is an online cash back site with a monthly subscription fee. ShopSmarter has 3 main offers:
Cashback on products you shop online.
Coupons for discounts on various stores.
Price comparison tool to help you choose the cheapest product.
Cash back platforms are designed to make the process of buying something as economical as possible. Shopmaster is no different in that regard, but a membership fee is something that's very atypical.
Shop smarter cash back program offers you a significant 10% cash back on your purchases. This is higher than any other competitor.
For some limited promotions, there's even a promised 20% cash back offer.
Considering that an average cashback site gives around 3%, having a cashback percentage this high is a bit too suspicious.
That is one of the reasons why there is an interest among consumers to find out if ShopSmarter is a legit platform.
Let's find out in our ShopSmarter review.
How Do They Offer a 10% Cashback?
Since a 10% cashback is significantly higher than on any other cashback site, it is important to figure out how can they have such an offer on their site.
How do they do this?
ShopSmarter works as an affiliate for websites from where you are purchasing items. When users purchase an item from the website they want, ShopSmarter gets a commission for the sale.
ShopSmarter has a monthly membership and charges a monthly fee to their user base.
ShopSmarter pays users back money they made from affiliate commissions and monthly membership fees.
This is what allows them to keep paying users higher rates than other services while also making money themselves.
How Does Shop Smarter Work?
To use the service, you have to get their monthly membership.
Once you have set up a Shop Smarter account, you will be able to browse more than 1000 stores via their ports and do your shopping.
Using the price comparison tool, you can see which store has your favorite items at a lowest price.
You can also check for available coupons before making a purchase.
The coupons can give you discounts, free shipping, and even a "buy one get one free" offer from time to time.
Once you buy an item, ShopSmarter takes about a week to verify a purchase.
The whole shopping process does seem fairly straightforward. You buy what you want and you get paid after a few days.
What Amount of Money Can You Get?
If you have the idea in your mind that you can earn thousands of dollars every month through Shop Smarter cash back, that will not happen.
Shop smarter has a maximum earning limit of $1000 per year for all users.
This is a low number and is bound to make many users frustrated (we've seen it happen).
However, earning, or saving, $1000 per year without having to do anything is still fairly decent.
Whatever you earn per month is sent to you via a check by ShopSmarter.
This is much better than some other websites that pay you in the form of gift cards. Having a check sent every month is a good reminder that you have actually earned some money by using this service.
For websites that pay you in gift cards, you should try and convert that to money. With our guide on how to transfer visa gift card balance to bank account, you should be able to do that quite easily.
Are There Any More Costs?
There are no additional costs aside from a monthly membership fee.
This will cost you $9.97 per month which can stack up to quite a bit over time.
Keeping in mind a subscription cost, you would have to spend at least $100 per month on the website to get $10 back and cover your membership.
If you don't have a lot of shopping online to do via ShopSmarter, it might end up costing you more money than earning you.
That's why you might be better off trying out an alternative platform that doesn't have a monthly fee associated with a service.
Or just simply focus on making money instead of trying to save it.
Read our Rev.com review and try to earn some pocket money online through a legit platform.
Customer Support of ShopSmarter
When you pay for a service, you expect a high-quality support team.
With cash back sites like ShopSmarter, having technical support can come in handy. You might need help with a product, a faulty link, or an unverified purchase.
In these situations, it is good to know if a service offers a good customer experience.
You can get in touch with the support in two ways. One of these is via email which is pretty standard for services like this.
The second way, however, is via direct phone call. You can dial 800-254-6536 and get access to support much quicker than you would if you emailed them.
This is a great way to make sure that customers get their urgent queries answered as soon as possible.
Are there Customer Complaints?
Like with any online service, there are bound to be people who have had a bad experience with ShopSmarter.
On paper, everything always looks great. But in order to find out more about the actual user experience, it's best to read some reviews by customers of the service.
Luckily, there are many online review sites where users can put in their direct reviews or comments about a site, and leave an honest ShopSmarter review.
When you go through some of these ShopSmarter reviews, you will get a very good idea of what the site is like and how it works.
ShopSmarter does have a lot of negative reviews and experiences reported by users. On SiteJabber, we can see 250 1-star reviews. That is quite a lot and brings the legitimacy of the entire platform in question.
Here are some of the most common complaints people have about the platform:
The Ads are Misleading
One of the most common issues people have is that ShopSmarter misleads them into signing up for the service via ads that are shown.
These ads reportedly trick users into paying membership fee without realizing what they are signing up for.
In order to save yourself from such advertising, just be sure to carefully read everything you're agreeing to so that you are aware of all the fees involved if you're thinking of becoming a member.
Accounts are Locked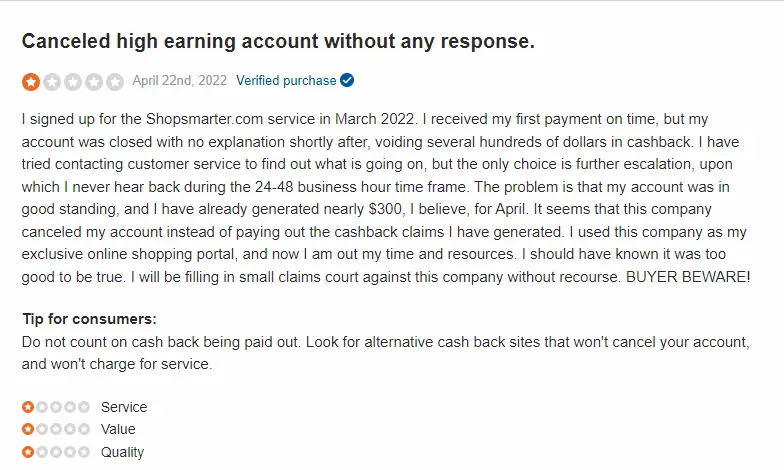 Another frustrating experience people seem to have is that the website locks their accounts without any legitimate reason.
One user reported that their account was locked because ShopSmarter wrongfully said they were conducting a business practice on their website which is against the T&C.
If you open an account, be sure to go over all the terms and conditions carefully so you know what you can and cannot do.
Even though locking someone's account without at least giving them a prior warning is too harsh and understandably frustrating, you should be as careful as possible to avoid such an unpleasant event.
Getting Paid Can be Difficult
For a cashback site, it is important to verify purchases before they can pay you the money.
However, it seems like getting paid on ShopSmarter can sometimes be harder than it has to be.
Users claim that the website makes you jump through hoops and often asks for proof of purchase before agreeing to pay the cashback amount.
Is ShopSmarter a Scam?
With a website that promises to pay 10% cashback on your purchases, it is natural for many people to wonder if it is actually legitimate or just an elaborate scam.
Considering the number of negative reviews, and so many people claiming scams, we are going to call it a scam.
It doesn't make sense to use a platform that manipulates users, closes accounts, and fails to pay its customers. If that happened a few times, we would've believed there is a legitimate reason behind it, however, 250 1-star reviews are solid proof that Shop Smarter is a platform to avoid.
ShopSmarter Alternatives
Just because Shop Smarter is not a legitimate platform, it doesn't mean that all cash back platforms are scams.
There are a variety of these that don't require a monthly fee, and where you can actually save money and/or get rewards while shopping online.
Let's see some legit cash back platforms:
Rakuten
Rakuten is sort of an industry leader when it comes to cash-backs. It's free to sign up, takes less than a couple of minutes, and as soon as you download their app, you can start buying items using their links.
There's a 10$ welcome bonus, and you will earn up to 3% cash back on your purchases. They have 15,000+ 5-star reviews and over 15 million members.
Swagbucks
Swagbucks is another legitimate platform where you can earn cash back for your online shopping. Same as Shop Smarter, they are also offering coupons.
Aside from cashback, you can earn money on Swagbucks by taking surveys or referring people to the platform.
You can earn money that you can cash out on Paypal. Swagbucks doesn't have a minimum withdrawal amount, and you will get a $5 bonus when you sign up.
You can earn gift cards, which you can then transfer to your bank account balance.
FAQ – Frequently Asked Questions
How do I cancel my ShopSmarter subscription?
There are two main ways to cancel a ShopSmarter membership:
By logging into your account and following a classic cancellation process.
Or by contacting them through the website using their email or a phone number.
How do I get a refund from ShopSmarter?
Given the negative reviews of Shop Smarter, you are likely to experience a setback when trying to get a refund from Shop Smarter.
There's no way to ask for a refund directly on the website. Your best bet is to call their customer service and try to request a refund.
Considering the experiences of other users, this is not likely to work, but it is still worth a try.
Bottom Line
So, now that you have gone through everything important to know about ShopSmarter, is it worth it to become a member?
Absolutely not!
If you want a way to earn thousands of dollars each month without any hitch along the way, then cash-backs are not right for you.
If, however, you are looking for some light passive income each month in the form of savings and cashback, then trying out ShopSmarter alternatives is the way to go.
This is especially true if you do a lot of online shopping and want to save whatever you can along the way.