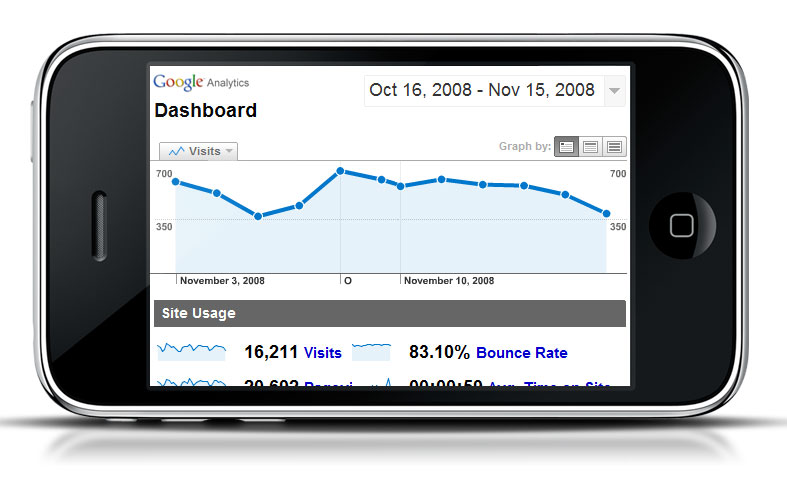 When you're on the go either running around town or on vacation, there is no doubt your website is going to need some attention. I have compiled a list for all of you website owners with iPhones to help you manage your website and server when access to a computer is just not possible. From server management and analytics to design/development, these 28 iPhone apps are sure to make your life easier when it comes to managing your website.
CMS Management
WordPress
"It's easy to manage your WordPress blog from your iPad, iPhone, or iPod touch. With WordPress for iPhone OS, you can moderate comments and create or edit posts and pages. All you need is a WordPress.com blog or a self-hosted blog running WordPress 2.9.2 or higher."
Price: Free
Joomla Admin Mobile!
"Joomla Admin Mobile! (JAM!) will allow you to manage and update many of the core features from multiple Joomla! 1.5 sites right from your iPhone!"
Price: Full – $9.99, Lite – Free
Drupal Notifier
"IPhone App Drupal Notifier provides information on the status of installed and active modules for your Drupal website. With every request from IPhone App Drupal Notifier the website sends another request to update.drupal.org service and provides information in xml format."
Price: $1.99
Analytics
BAM Analytics
"BAM Analytics Pro is a quick and easy way to view your Google Analytics information on your iPhone. The BAM Analytics app uses the Google Analytics API to quickly retrieve your website analytics data."
Price: Full – $1.99, Lite – Free
Analytics Agent
"Analytics Agent Pro is developed based on Google Analytics API. You can browse and manage your Google Analytics on iphone or itouch, it can provide its most functions. Compared with other software which belongs to the same category, we force on data classification and its details which help you browse data which you want conveniently and quickly."
Price: Full – $2.99, Lite – Free
Analytics App
"Analytics App is the premier app for Google Analytics you've been waiting for! Analytics App gives you access to your Google Analytics data from anywhere, so whether you have a spare minute at the park, or need to share some data during a meeting, this Analytics app puts your Google Analytics at your fingertips."
Price: $6.99
Chart Beat
"The web doesn't work with a 24-hour lag and neither should your analytics. Chartbeat gives you real-time analytics so that you know what's happening when it's happening. Control the story, track a product launch, exploit an opportunity from the moment they happen."
Price: Free
Mint Stats
"Mint Stats allows you to quickly see how many people have visited your site today. This application integrates with Shaun Inman's Mint site analytics ( http://haveamint.com/ ). It provides statistics for the past 24 hours."
Price: Free
Server Management
Cumulus (S3)
"Cumulus is the Amazon S3, Simple Storage Service, client for the iPhone/iPod Touch. It enables you to add files to your S3 storage from anywhere. You can manage your buckets, bucket permissions, files, and file permissions. You can also send email and Twitter tweets containing your object links."
Price: $2.99
pTerm
"pTerm provides an SSH, Telnet, and raw TCP client for your iPhone or iPod Touch! It is based on the popular desktop client 'PuTTY'."
Price: $4.99
iSSH
"SSH and Telnet emulator of VT100, VT102, VT220, ANSI, xterm, and xterm-color terminals integrated with tunneled a VNC client and an X server."
Price: $9.99
FTP On The Go
"An FTP client for the iPad, iPhone, and iPod touch. View and edit HTML/CSS/JS/PHP/ASP, or other files on your server with its built in editor to change your website from anywhere. View images and documents (JPG, PDF, DOC, XLS, PPT, etc) too."
Price: Full – $9.99, Lite – $6.99
Database Viewer Plus
"Database Viewer Plus allows to view and update any database on iPhone. Synchronize any database wirelessly(3G, EDGE or Wi-Fi) with iPhone. Changes on iPhone can synchronize wirelessly and instantly to desktop database. Also, any modifications to the desktop database can sent wirelessly and instantly to iPhone when the app is started, so you will always have the most current information at your fingertips."
Price: Full – $39.99, Lite – 19.99
Pingdom
"Pingdom iPhone app lets you connect to the Pingdom uptime monitoring service and view the current status of the servers and websites you are monitoring. It is a handy companion when you receive an error alert from Pingdom."
Price: Free
Network Utility
"Stuck in an area away from your computer? But still need to check your website or server status? Now with Network Utility you can check on your precious website or server status from anywhere that you have internet or cell phone reception. With a variety of features, Network Utility is the sure tool for anyone to provide terminal-like network tool support with the ease of an iPhone GUI. Whether you're a network professional or just a blogger, checking up on your server has never been so easy!"
Price: Full – $0.99, Lite – Free
Network Ping
"Network Ping is a software test tool for maintaining and debugging network problems on a local area network (LAN). Get an easy view for a full subnet on a single screen. Look at the screen to the left displaying the status for devices 192.168.2.0 – 192.168.2.255. Green and the device is working, yellow, there is a problem, and red, the device is not any longer on the LAN."
Price: Full – $3.99, Lite – Free
Web Tools
"Web Tools provides various functions for working with domain names. Perfect tool for web masters."
Price: $1.99
Your Hosting Company's iPhone App or Mobile Site
Example: Media Temple
"Media Temple hosts websites. Big and Small. For years we've taken complex technology and simplified it for the everyday website owner. Our products are designed to be powerful, affordable and relevant."
Price: Free
Design & Development
Concentric Sky Cheat Sheets (html, javascript, css, php, jquery)
"Even seasoned web developers need a quick refresher course in html, javascript, css, php, and jquery. With Concentric Sky, you have all of these great cheat sheets at your fingertips."
Price: $0.99
Source Viewer
"Whether you are a web designer or just curious – this application is for you. Source Viewer shows the HTML, CSS and Javascript source code of any website."
Price: Full – $1.99, Lite – $0.99
Color Expert
"We built Color Expert from the ground up with the creative spirit in mind. Designers of all types, regardless of their medium, have a common thread—and that common thread is color. We use it to be loud, quiet, bold, subtle, soothing, frenzied and sometimes just to stand out. But working with color can be difficult away from the studio."
Price: $9.99
What The Font
"Ever seen a great font in a magazine ad, poster, or on the web and wondered what font it is? Whip out your iPhone and snap a photo, and WhatTheFont will identify that font in seconds!"
Price: Free
Other
Mocha VNC
"Mocha VNC provides access to a VNC Server. Using your iPhone or iPad, you can connect to a Windows PC or Mac OS X and see the files, programs, and resources exactly as you would if you were sitting at your desk, just on a smaller screen."
Price: Full – $5.99, Lite – Free
GoDaddy
"The GoDaddy.com Mobile iPhone app allows you to take advantage of domain name registration from the world's #1 domain name registrar! Need email, hosting or a Web site builder? You can sign up for those too. But that's not all. The Go Daddy app is great whether you want to buy one of our products, manage your domains, check email or be entertained!"
Price: Free
Domain Scout
"Find domain names for your new idea right from your iPhone."
Price: Free
Deep WHOIS
"Using Deep Whois™ you can search public WHOIS databases for hostnames, domains, IP addresses, IP networks and autonomous systems (ASNs). Deep Whois™ automatically selects WHOIS servers and performs a lookup. When more information is available it follows deeper by continuing the lookup at referral WHOIS servers."
Price: $0.99
Crop For Free
"Cropping is a must-have utility, and this one is free. Just click the crop icon, grab the red brackets in any corner of the photo and drag to size. Easy as pie."
Price: Free
Ego App
"Ego gives you one central—and lovely—location to check web statistics that matter to you. With support for Ember, Feedburner, Google Analytics, Mint, Squarespace, Tumblr, Twitter and Vimeo, you can quickly view the number of visits to your website (including daily, hourly and monthly numbers), feed subscription totals and changes, how many people are following you on Twitter and more."
Price: $1.99
If you have any other good iPhone apps that you use to manage your website on the go, please add them in the comment section below.