With Cyber Monday behind us, many retailers are still reeling from the high traffic and sales that were condensed into a four-day weekend. Even customers are recovering from the barrage of Blyber weekend (the period between and including Black Friday and Cyber Monday) ads and promotions. However, the shopping season isn't over yet and many retailers are still wondering how to deal with capturing more online sales now that the hype from all of the Black Friday/Cyber Monday deals has simmered down.  Here are some things to consider about the holiday shopping excitement.
Why is this important for you to know?
Just like with gold mining, you have a lot of work to do before you even break ground on holiday promotions. Just as a 49er needs to scope out where to stake their claim, what equipment is necessary, and how to yield the most gold for the effort they're putting in, each business must also establish a good strategy and develop efficient implementation of their marketing efforts if they want to yield the greatest amount of bang for their buck. Though many wheels are bound to be spinning on icy roads this holiday season, that doesn't mean your business needs to spin its wheels trying to implement a marketing strategy that doesn't work.
And the Data Rolls In…
The benefit of having so many retailers on board with the Blyber weekend  frenzy is that it can provide information about businesses that have implemented successful marketing strategies and what blunders to avoid. Here's a brief look at what information has been gathered about this weekend's results:
 
What to Extrapolate
With all of the data that is rolling in, there is always a potential for slight variations in exact numbers and estimates. However, there are some things that are worth considering.
1. Online sales for 2011 holiday season has increased for Black Friday and Cyber Monday (in the double digits) since last year
2. Mobile online sales has almost doubled for the 2011 holiday season compared to last year
3. More e-commerce sales appear to occur during Cyber Monday than Black Friday (hmm…maybe that's why they call it Cyber Monday)
This is good news if you have an e-commerce site that you've been promoting for Cyber Monday, and even better if you've setup a mobile version of your site. However, if you haven't done these things, don't wait until late next year. Find ways to capture these growing opportunities and don't wait until next year to do it.
Adapt and Overcome
In my house, we have a saying "Adapt and Overcome" and while this isn't an original phrase, the concept is poignant in any situation, especially business. Ten years ago, Apple had just released iTunes and the major "smart phone" on the market at that time was the BlackBerry which was more often utilized by businesspeople. Fast forward six more years and the iPhone makes its public debut, as well as the Android operating system, which opens the door to mobile Internet access to the masses. Consumers adapt by multi-tasking and even using their smartphones to use the Internet much the same way they would with their laptop or desktop computer. Businesses adapt by creating mobile-friendly websites to cater to this demographic. Even BlackBerry adapted to appeal to a demographic of younger users to accommodate this growing market. Now, advertisers are finding more creative approaches to reach their target audiences on the web including Facebook Ads, Deal-of-the-Day Websites, and Tweets about special promotions and deals.
What to Do
Start Your Website
If you haven't already, one of the first things you should consider is having a website for your business (a no brainer if you're running an ecommerce site, of course). It seems pretty silly, but there are still a lot of brick and mortar businesses that either don't see the value of setting up a website, or don't have the money to start and maintain one. Find a way to create an online presence, even if it is just a Blogspot blog and a Google+ Business page.
Optimize Your Website
Whether your business is part of a national chain or you're running an ecommerce site, you still need your visitors to find you. The search engines, as intelligently designed as their algorithms are, still need some human intervention. Make sure your site is search engine optimized, and if you're running businesses out of an actual brick and mortar location, make sure your Google Places page is accurate too. If your customers can't find you, they can't buy from you. Make your customers' user experience and easy and simple as possible and if you're selling products on your site, don't forget about taking advantage of setting up shopping feeds to help increase exposure to your products too. Google and Bing both display products in SERPs from Google Product Search and Bing Shopping (respectively).
Just Like Captain Picard Always Said: Engage!
There's a reason why the movie was called Field of Dreams and not Field of Reality: only in a dream could someone expect to build something like, say a website, and expect people to come to it without any engagement. So stop dreaming and start getting involved! Just building a site won't make your visitors come—get involved in social media like Twitter and Facebook but don't be too salesy. Reach out to your customers by encouraging them to follow/like you by rewarding them with special offers or discounts. Don't abuse this by only mentioning products at MSRP (or worse, overly priced items) or by annoying your followers/friends with hourly updates on mundane activities.
GoMo!
With the numbers pointing to a double digit increase in mobile shoppers, it is incredibly important to make sure your site is mobile device friendly. Granted, it is also important to note that tablets can provide better of a user experience for mobile shoppers as the larger screen allows more to be seen, but it is still a good idea to consider making a mobile site for smartphones too. You can see how your current site looks in mobile by using Google's GoMo Meter. Your web developer can code your site to detect if your site is being accessed by a mobile device and then redirect your mobile users to the mobile site (e.g. if google.com is visited by a mobile device, the visitor is redirected to m.google.com), however it is important to note that you will still need to create the mobile site as well as solve canonicalization issues that result from having duplicate content (a non-mobile version is viewed as a separate page than a mobile version by Google, so it is important to correct this duplicate content issue by employing canonicalization fixes for mobile sites).
Don't Give Up!
Just because the Blyber Weekend is over doesn't mean that you won't still bring in a lot of potential shoppers. Prior to 2003, the Saturday before Christmas was often considered the busiest shopping day of the year. Though it may not surpass Black Friday, it is still a day to be reckoned with. Simply put: the well hasn't run dry. If there's one thing that can be certain for holiday shopping is that there will always be procrastinators, in addition to the many people that may not have completed their Christmas shopping over the Blyber Weekend. This graph from comScore says it all: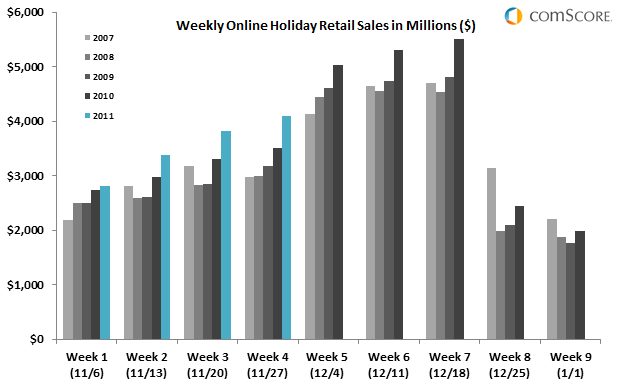 Expect Some Competition Still
Due to the overwhelming marketing involved during Black Friday and Cyber Monday, many "late bird" consumers might be more likely to shop at the stores that had the highly advertised Black Friday/Cyber Monday sales simply due to the fact that the information is (albeit subliminally) retained in their (cranial) memory banks. Set your business apart by attracting the "procrastinators" too. It's probably worth noting that since many retailers might be overstocked due to preparation for the Blyber Weekend, you might find that some retailers are still trying to cash in on the late shoppers too so don't procrastinate like your customers might be doing.
Sources: