PayPal approves and accepts all major credit cards, from Visa and Mastercard to American Express and Discover, making it super easy to perform transactions using several cards.
PayPal utilizes a complex screening process for card payments to protect your account and reduce scam rates. This helps to prevent stolen cards from being used for unauthorized transactions. Consequently, PayPal might sometimes decline your card when completing a transaction if it notices anything unusual.
There's no general reason why PayPal might decline your card since the reason for a card decline could vary from user to user. Hence, we've compiled several reasons you might be experiencing card decline, including resolution tips so you can perform transactions easily.
Why Does PayPal Keep Rejecting my Credit/Debit Card?
It can be frustrating when your card keeps declining at checkout, especially when you're confident that you have enough money to cover those items. The excitement you felt ordering the items suddenly begins to dwindle because you cannot figure out why your card keeps declining.
There are several reasons why PayPal might be rejecting your card and telling you to try a different card. Here are some of them:
1. Your Card Is Linked to Another Account
If you've previously linked your card to a PayPal account and you're trying to use it on another account, PayPal will decline such a card. Also, if your card is linked to a PayPal account that PayPal has closed, your card will be declined. You'd need to either remove the card from the first account and retry linking to the second account or try a different card.
2. Unconfirmed Card
If PayPal has not yet confirmed your card, it might be difficult to use it for transactions on the site. An unconfirmed card could sometimes result from your card issuer refusing the $1.00 authorization sent by PayPal when you attempted to add the card. You'd need to contact your bank and explain this to them.
3. Safety Issues
For safety, banks and card companies sometimes block transactions in case of fraud or unusual transactions. Contact your bank to confirm that you're the one performing the transaction and that it's safe to proceed.
4. Card Limit
If you've exceeded your card limit with the PayPal system, it will reject any further payments or transactions. Link a different card to your PayPal account or try a different payment method if you still wish to perform your transaction.
5. Unconfirmed Email Address
Transactions on Paypal require a confirmed email address. If PayPal has not yet verified your email address, performing any transaction on your account might be difficult. In the account settings section, enter the email address you wish to use and select "confirm." PayPal will send you a confirmation email immediately.
6. Browser Not Accepting Cookies
If your browser is not accepting cookies, you should clear any existing cookies and try again or try a different browser.
7. Expired Card
An expired card will automatically result in the card declining payments. However, if you'd still prefer the credit card option, you'd need to update your card details or link a new card to your account.
8. Incorrect or Outdated Billing Address
The addresses on your PayPal account and card statement must completely match for you to perform any transaction to prevent PayPal from continually declining the card. If you've recently relocated, you need to update your billing address to avoid any problems with future transactions.
9. Card Issuer
If your bank or card issuer is experiencing technical problems, this could prevent authorization of a transaction resulting in declined cards. You could try again after twenty-four hours; if it's still the same, reach out to your bank for further explanation.
10. Incorrect Card Security Code
If you entered the card security code (CSC) incorrectly three times when linking your card to your PayPal account, it could result in the card declining. You'd need to contact Paypal support for additional information.
11. Your Card Does Not Support International Payments
If your card only supports local payments, PayPal could decline your card when you're trying to perform an international transaction. You need a card that supports international payments to complete your transaction.
12. The PayPal System Flags Your Device or IP Address
This could also be a reason why PayPal is declining your card. Log into your PayPal account on a different device to complete your transaction.
13. Insufficient Funds
Lastly, PayPal could be rejecting your card because of insufficient funds. If the money in your account is insufficient to cover the transaction amount you're performing, PayPal will decline the card. You'd need to either try a different payment method or credit card or utilize the Auto Reload feature.
How to Resolve Card Decline Issues
If you've resolved all of the issues above and your card still keeps declining, here are other options you could try.
1. Change Your Payment Method at Checkout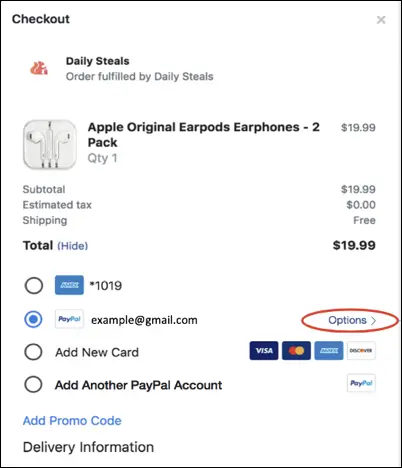 In addition to the credit card payment method at checkout, PayPal offers bank account, wallet, and debit card options. You can easily link your bank account to your PayPal account in a few minutes and use it for transactions instead of your credit or debit card.
2. Confirm Your Recipient's Email Address or Phone Number is Entered Correctly 
Ensure that your PayPal account is fully registered and verified and that all necessary details are confirmed before performing any transaction.
3. Link a Different Credit Card to Your PayPal Account
If PayPal keeps declining your credit card, you can link a new one to your PayPal account and try again.
4. Use International Cards
To avoid issues when doing international transactions on Paypal, link an international credit card supported by PayPal to your Paypal account and perform transactions easily.
Conclusion
All the security measures adopted by PayPal are to keep each user's account safe, secure, and free from fraudsters. On the PayPal mobile app, Android users can enable Auto Reload in case of insufficient funds on their PayPal Cash Plus account. This enables them to pull funds from either a linked debit card or bank account in predetermined amounts until payment is covered.
Additionally, if PayPal continually declines your card despite resolving all of the above issues, you should contact Paypal support and file a complaint.